Creating Quotes is Easy
Looking for that quote you created last month? Wondering how much the quote was for and what items you excluded from the job? All your quotes and job details are stored in one location.
Select your client and give your job a description
Calculate quantities in the expanding categories
Your quote is constantly updating on the floating side table
Preview the written quote and send to your client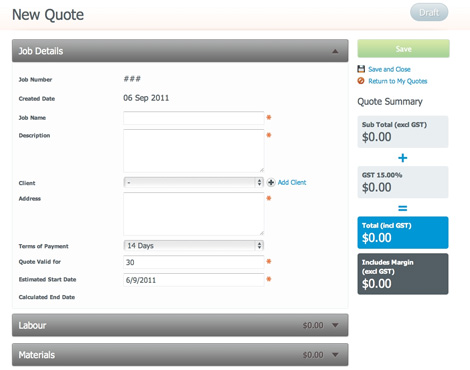 Preview Quote or Invoice and Send as a PDF
You don't have to be a computer whizz to create a sharp looking professional quote or invoice to send to your client. Your client will no doubt appreciate your speed and professionalism that puts you ahead of the rest.
Quotes are generated for your clients from the information you input
Review your quote or invoice and email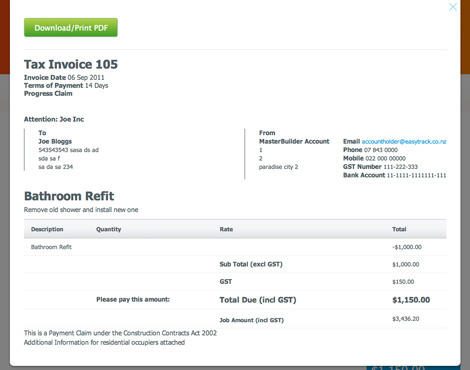 Invoices and Payments
Don't lose time and money chasing after invoices and payments that's lost under mountains of paper work and what's worse you're not even sure if you have sent the client the bill yet…eliminate the problem
All your job invoices are stored in one easy location
Select the job number to view the invoices created for the client
Each invoice is colour coded for easy status reference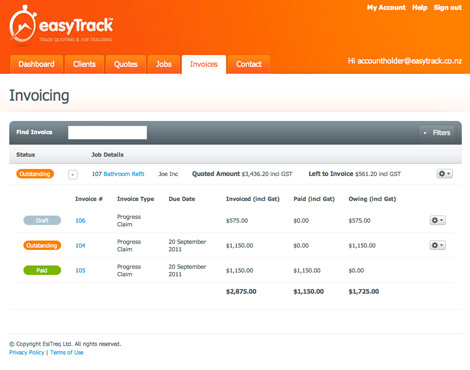 Edit an Invoice
EasyTrack takes the hassle out of invoicing. Don't be discouraged if your client wants you to do more than you quoted. Before you send the invoice simply edit by adding the extra items.
When a client accepts your quote the system will automatically create an invoice for the job
Edit the invoice and send